HiQ LS Handles and Hand Instruments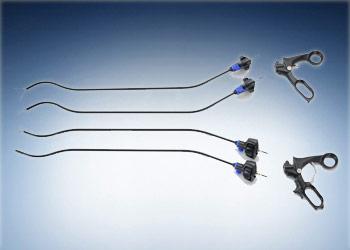 Handles & Instruments
HiQ LS Handles and Hand Instruments
Olympus HiQ LS reusable hand instruments, designed specifically for LESS surgery, are curved to offer surgeons the ability to triangulate and avoid crossed instruments in the abdomen. The reusable design features independent jaw rotation, versatile shafts for the left or right hand, and a low-profile handle design for ideal ergonomics. The instruments are designed for monopolar HF application.
---
Key Benefits
Efficient design: Curved, double-bent shafts at the proximal and distal ends are designed to help the surgeon achieve ideal instrument triangulation. The low-profile handle design is ideal for limited space in single-port surgery.
Independent rotation: Separate jaw rotation allows adjustment of the jaw to the tissue independent of the shaft position.
Interchangeable handedness: A universal handle/shaft insert interface allows interchange of the same instrument for use using either the right or left hand.
---
Product Support
Hand instruments include HiQ LS deactivatable handle, HiQ LS monopolar handle, 75° curved infundibulum grasper, and more. Multiple 5 x 350 mm hand instruments as well as bariatric lengths available.
Olympus® Service & Repair
Olympus offers a broad range of services to healthcare professionals and to our customers, including contact hour and peer-based training courses; information, training tools and videos on infection control and reprocessing; authorized repair services and support on Olympus equipment; and financing solutions to help your facility with acquisition of new capital equipment, accessories, and maintenance plans.
Need Help?
Cleaning, Disinfection & Sterilization
The proper cleaning, disinfection, and sterilization of Olympus equipment is equally as important as their proper use.
Olympus Training & Proper Use
Olympus Continuum, is a comprehensive platform of education and training experiences led by healthcare experts from around the world. Learning opportunities include hands-on courses, online learning, lectures and workshops, peer-to-peer training, accredited continuing education, and on-demand learning.
For more information: Olympus Continuum Video
---