See. Treat. Connect.™
VISERA ELITE II
Innovation That Grows With You
DOWNLOAD BROCHURE
Reduce Cost
by standardizing surgical equipment across specialties including General Surgery, Urology, Gynecology, ENT, Orthopedic Surgery and more.
Support Decision-making
by choosing infrared (IR) and Narrow Band Imaging (NBI®) during endoscopic and surgical procedures.
Help Improve Patient Outcomes
by improving visualization methods and technologies with the VEII versatile and customizable imaging platform.
Experience ENDOEYE 3D
by enabling a continuous critical view and visual horizon in 3D throughout scope rotation.
Your Multi-specialty Imaging Solution
VISERA ELITE II is the newest imaging platform from Olympus for endoscopic procedures across all surgical specialties including General Surgery, Urology, Gynecology, Otolaryngology and Orthopedic surgery. 22 procedure Specific Camera & Video Endoscopes, 9+ Specialties = 1 Simple & Powerful Platform in 2D/3D/IR vision.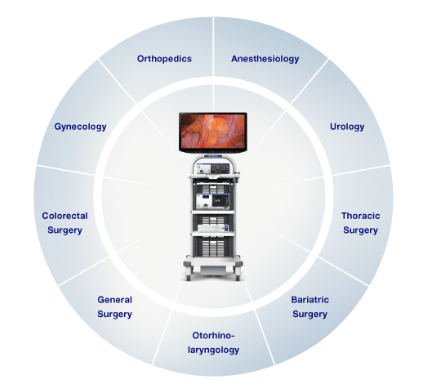 Innovation with Versatility
Today's multifunctional O.R. supports a range of surgical specialties.
Health care providers are faced with staff and patient safety concerns along with a need for the right type of clear surgical visualization at the right time during procedures. VISERA ELITE II is an imaging platform designed to meet the needs of endoscopic procedures across multiple specialties including general surgery, urology, gynecology, ENT, orthopedic surgery and more. This is a remote-coaching/collaboration-ready platform enabling standardization, teaching, learning and training beyond the O.R.
Optimized Clinical Solutions
3D Laparoscopy
2D Laparoscopy
Single-Site Surgery
Ureteroscopy
Cystoscopy,
TUR-BT
FESS
Laryngoscopy
Arthroscopy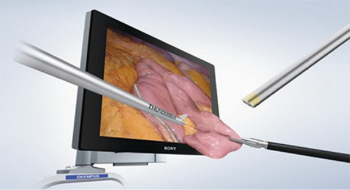 3D Laparoscopy
Exceptional 3D perception and brilliant image quality with rigid 0° and 30° ENDOEYE.3
World's first rigid laparoscope maintaining 3D visual horizon throughout scope rotation.3
Autoclavable, focus-free, and easy plug and play scopes.3
3. Assessment of 3-Dimensional vs 2-Dimensional Imaging and Technical Performance Using a Multiport Intraoperative Data Capture and Analytic System for Patients Undergoing Laparoscopic Roux-en-Y Gastric Bypass Surgery Mauricio E. Gabrielli, MD, MSc; Tomas J. Saun, MD, MASc; James J. Jung, MD, PhD; Teodor P. Grantcharov, MD, PhD, FACS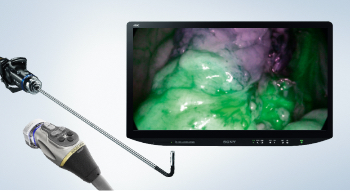 2D Laparoscopy
Infrared, NBI, and white light visualizations with a compact and lightweight camera head.
Natural color tone, reduced halation, and improved red color tone due to LED lamp.
Observe organs and tissues from multiple directions with ENDOEYE FLEX 100° angulation.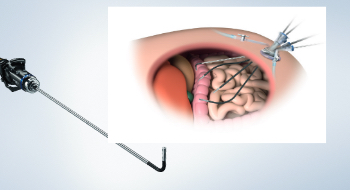 Laparo-Endoscopic Single-Site Surgery
More visible operating field with ENDOEYE FLEX 5 mm.
Reduced "sword fighting" of hand instruments with the articulating scope - allowing the tip to be pulled back without sacrificing the operative viewpoint.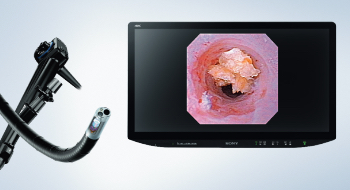 Ureteroscopy
Clear and bright visualization with enhanced image processing and videoscope technology.
Shorter operating times due to improved image quality of videoscopes.1
1. EAU Guidelines on Urolithiasis 2017.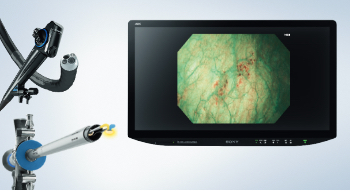 Cystoscopy,
TUR-BT
NBI visualized non-muscle-invasive bladder cancer (NMIBC) lesions. in an additional 17% of patients.2
NBI visualized 24% additional tumors.2
NBI visualized 28% additional carcinoma in situ (CIS).2
2. Li K, Lin T, Fan X, et al. Diagnosis of narrow-band imaging in non-muscle-invasive bladder cancer: a systematic review and meta-analysis. Int J Urol. 2013 Jun;20(6):602-9.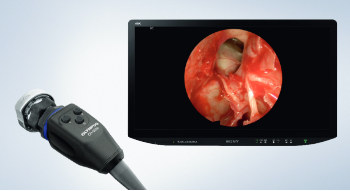 FESS
Compact and lightweight camera head.
Enriched color reproduction from broad covering of the color gamut.
Improved brightness at the distal point with contrast settings.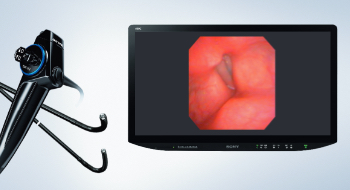 Laryngoscopy
Improved HD image quality with natural color reproduction from the LED lamp.
Traditional and pistol grip videoscope lineup with exceptional luminosity and a wide field of view.
Compatible with the Olympus Stroboscopy light source.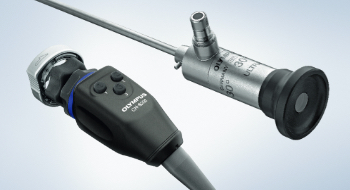 Arthroscopy
Compact and lightweight design.
Ergonomic design offers different ways to hold and grasp the camera head.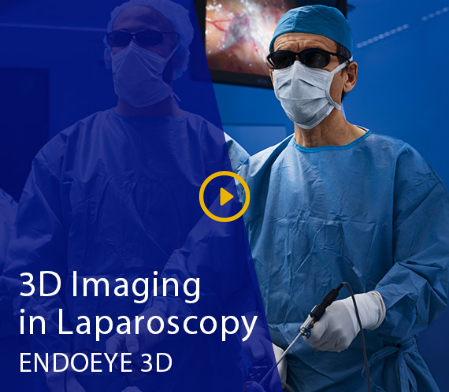 Innovation with 3D
Olympus 3D imaging can go beyond the limits of what traditional endoscopes can see. Unlike an expensive 3D robotic approach, this simple platform restores 3D vision during laparoscopy so surgeons can remain scrubbed in and closer to the patient. It has also demonstrated improved clinical outcomes.
Tired of Tilting Your Head?
Experience the New ENDOEYE 3D
Olympus has overcome the technical barrier of video image rotation with a 30° rigid laparoscope, enabling a continuous critical view in 3D during scope rotation while maintaining a visual horizon.
Designed to provide less stress on viewer's eyes, surgeons can perform operation with natural 3D depth perception.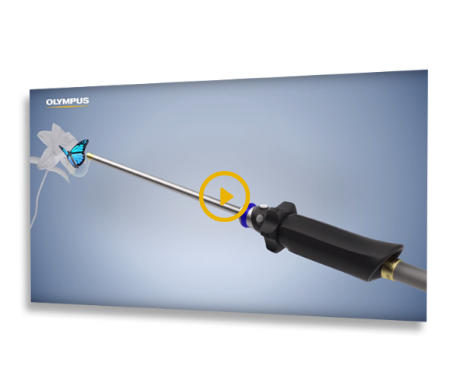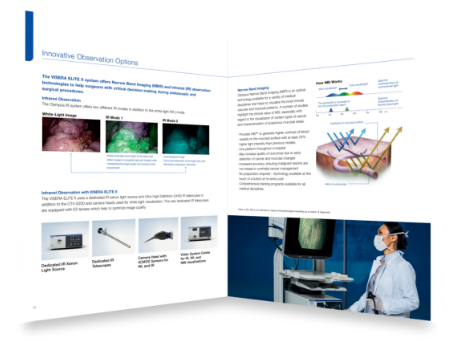 Innovative Observation Options
The VISERA ELITE II system offers Narrow Band Imaging (NBI®) and Infrared (IR) observation technologies to help surgeons with critical decision-making during endoscopic and surgical procedures.
IR observation allows surgeons to identify well-perfused tissue and the biliary tract that is difficult to see under white light or with the naked eye.
Striving for Improved Quality of Patient Care
See. Treat. Connect.™: Innovation That Grows With You.
The VISERA ELITE II imaging platform is versatile and customizable. This compact system provides the tools to help you make critical and timely decisions now, while leaving room for future innovations. With 3D, IR and NBI visualizations, along with advanced smoke and fog solutions, VISERA ELITE II helps to simplify your O.R. workflow across 9+ specialties with 22 procedure-specific camera heads & video endoscopes.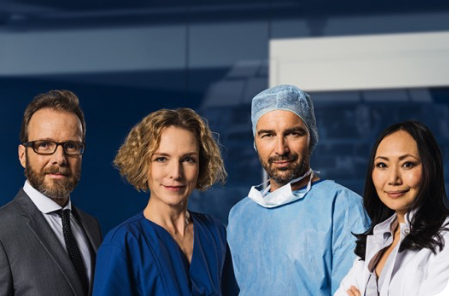 Innovation with Simplicity
VISERA ELITE II is an all-in-one compact system that minimizes the number of devices and cables needed to achieve various observation modes such as 3D, HD, IR and NBI. It helps your staff to streamline the O.R. workflow from equipment preparation, to maintenance, troubleshooting, staff training, and cable management.
The LCD touch screen allows for easy navigation and setting configuration without the need for a separate keyboard:
LCD touch screen with intuitive icons.
Easy and customizable user presets that can be saved and loaded with up to 20 different configurations.
Supports straightforward staff training and device maintenance.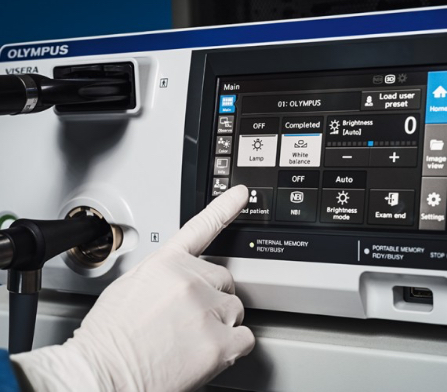 Download Brochure
Submit your information below to download the brochure and learn more about how the VISERA ELITE II Imaging Platform can help you reduce cost, support-decision making and help improve patient outcomes.
1. EAU Guidelines on Urolithiasis 2017.
2. Li K, Lin T, Fan X, et al. Diagnosis of narrow-band imaging in non-muscle-invasive bladder cancer: a systematic review and meta-analysis. Int J Urol. 2013 Jun;20(6):602-9.
3. Assessment of 3-Dimensional vs 2-Dimensional Imaging and Technical Performance Using a Multiport Intraoperative Data Capture and Analytic System for Patients Undergoing Laparoscopic Roux-en-Y Gastric Bypass Surgery Mauricio E. Gabrielli, MD, MSc; Tomas J. Saun, MD, MASc; James J. Jung, MD, PhD; Teodor P. Grantcharov, MD, PhD, FACS