Probe Driving Unit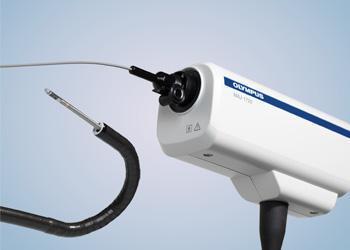 Endoscopic Ultrasound
Probe Driving Unit
The Olympus MAJ-1720 probe driving unit is designed to support a spectrum of advanced EUS and EBUS procedures. The unit powers a wide variety of Olympus ultrasound miniature probes with frequency ranges of 7.5 to 20 MHz. These enable observation at high frequencies, providing better resolution of superficial layers, as well as facilitating intraductal ultrasonography and visualization of difficult-to-access locations.
---
Key Benefits
Wider range of frequencies: Olympus ultrasound miniature probes offer a range of frequencies from 7.5 to 20 MHz, enabling observation of superficial layers at higher resolutions.
Easy access to difficult areas: Slim miniature probes facilitate intraductal ultrasonography and visualization of difficult-to-access locations.
Detailed imaging with DPR: Dual-plane reconstruction combines radial and linear images for more detailed imaging, making ultrasound images easier to interpret by generating two dimensions that correlate directly with one another. When used with the EU-ME2 processor, DPR data can deliver reconstructed 3D images.
Supports radial EBUS: Drives the radial EBUS probes that can be used in peripheral bronchoscopy to provide real-time confirmation of lesion location.
---
Product Support
The MAJ-1720 probe driving unit is compatible with a wide range of Olympus ultrasound probes. For more detailed unit specifications, please contact customer service for assistance.
Olympus® Service & Repair
Olympus offers a broad range of services to healthcare professionals and to our customers, including contact hour and peer-based training courses; information, training tools and videos on infection control and reprocessing; authorized repair services and support on Olympus equipment; and financing solutions to help your facility with acquisition of new capital equipment, accessories, and maintenance plans.
Need Help?
Olympus Training & Proper Use
Olympus Continuum, is a comprehensive platform of education and training experiences led by healthcare experts from around the world. Learning opportunities include hands-on courses, online learning, lectures and workshops, peer-to-peer training, accredited continuing education, and on-demand learning.
For more information: Olympus Continuum Video