Resection in Saline Electrodes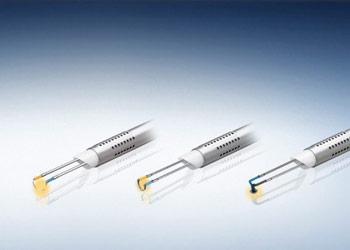 Electrodes
Resection in Saline Electrodes
Olympus Resection in Saline Electrodes include a variety of electrode choices for urological procedures, including the PlasmaButton as well as loop (various sizes), band, knife, and roller ball options. Their seamless integration with Olympus resectoscopes ensures surgical tissue removal with minimal bleeding, increased visibility, and decreased procedure time. Only Olympus electrodes are designed to conform to the precise Olympus resectoscope specifications and tolerances necessary to assure safe, effective, and reliable operation.
---
Key Benefits
Enhanced safety: The use of saline reduces the risk of TUR syndrome while the use of bipoloar technology reduces stimulation of the obturator nerve. The latest plasma technology also makes virtual bloodless treatment possible. The electrodes deliver clean and precise cutting and coagulation, which is especially beneficial during TUR-BT.
Added efficiency: The self-cleaning effect of the loop-wire when plasma is activated saves cleaning time, and Olympus technology eliminates the need for a patient plate. 
Proven efficacy: With use in more than 100,000 clinical cases and three years on the market, Olympus Resection in Saline Electrodes have delivered three years of proven effectiveness. 
PlasmaButton Vaporization Electrode: The revolutionary, optimized spherical shape of the PlasmaButton Vaporization Electrode combined with the easy-to-learn vaporization technique results in well-coagulated, smooth tissue. Vaporization of the tissue is performed by the plasma corona utilizing pulsing, ultra-low voltage energy. Vaporization is safely performed in saline while the plasma corona reduces the penetration depth of the energy, affecting only localized tissue. The PlasmaButton electrode shape combined with resection-in-saline technology provides a safe and easy-to-use solution to tissue management challenges.
---
Product Support
For detailed specifications on Olympus Resection Electrodes, please contact Customer Service for assistance.
Olympus® Service & Repair
Olympus offers a broad range of services to healthcare professionals and to our customers, including contact hour and peer-based training courses; information, training tools and videos on infection control and reprocessing; authorized repair services and support on Olympus equipment; and financing solutions to help your facility with acquisition of new capital equipment, accessories, and maintenance plans.
Need Help?
Cleaning, Disinfection & Sterilization
The proper cleaning, disinfection, and sterilization of Olympus equipment is equally as important as their proper use.
Olympus Training & Proper Use
Olympus Continuum, is a comprehensive platform of education and training experiences led by healthcare experts from around the world. Learning opportunities include hands-on courses, online learning, lectures and workshops, peer-to-peer training, accredited continuing education, and on-demand learning.
For more information: Olympus Continuum Video